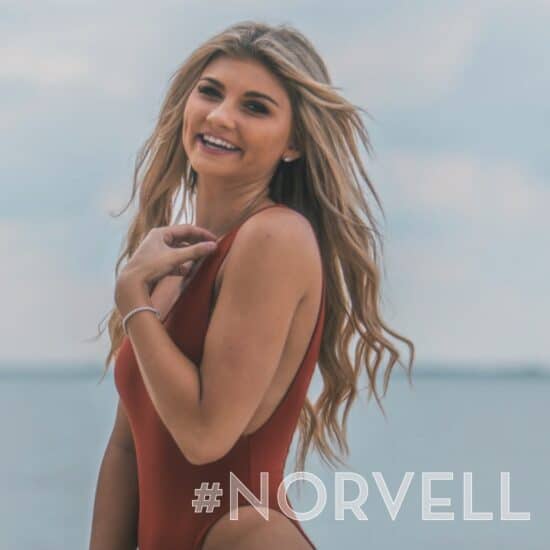 #1 RATED TANNING SOLUTIONS FOR JUST-OFF-THE-BEACH-COLOR
DHA: At Norvell, we use the best ingredients to provide the best tans starting with DHA- Dihydroxyacetone, 
DHA is the most commonly used active ingredient in most sunless tanning products and   gives an even and natural tan. 
We work with the #1 supplier of DHA to ensure we have the freshest, best, DHA available.
Norvell is formulated with Vio-7, a unique blend of anti-orange bronzer pigments to help  counter the orange undertone.
Ordonone® technology helps eliminate common sunless tanning odor.
Multiple shades of bronzers to enhance your tan
Gluten Free | Paraben Free | Cruelty Free | Sulfate Free | Non-Comedogenic | 100% Vegan
24-48 Hours Before Airbrush Sunless Spray Tan Session
Exfoliate. Exfoliate. Exfoliate.
We cannot over-stress the importance of pre-session exfoliation. 24-hours prior to your appointment, clear away any dry, dead skin cells with a pH balancing scrub such as Norvell® Renewing Sunless Exfoliator™. For extreme areas use a deep exfoliator no less than 24-hours prior to your session.
Protect Your Skins' pH Levels
Avoid using bar soaps, high pH shower products, or in-shower moisturizers. These products can neutralize the DHA bronzing reaction within the skin.
Hair Removal and Nails
Any depilatory creams or shaving should be completed 24-hours prior to your session. Manicures, pedicures, and waxing should be done 48 hours before your appointment.  
Day of Airbrush Sunless Spray Tan Session
Don't Create Sunless Barriers.
Avoid applying anything to the skin that may act as a barrier between the sunless solution and the skin. Deep penetration of the solution is key to beautiful lasting color. Do not apply lotions, creams, or perfumes prior to your sunless tan session. Use deodorant sparingly.
Remove any make-up prior to the sunless application.
Arrive Prepared.
Wear loose fitting, dark colored clothing and remove jewelry. Tight clothing can rub or smear bronzers, especially around the knees, elbows, chest, and waist.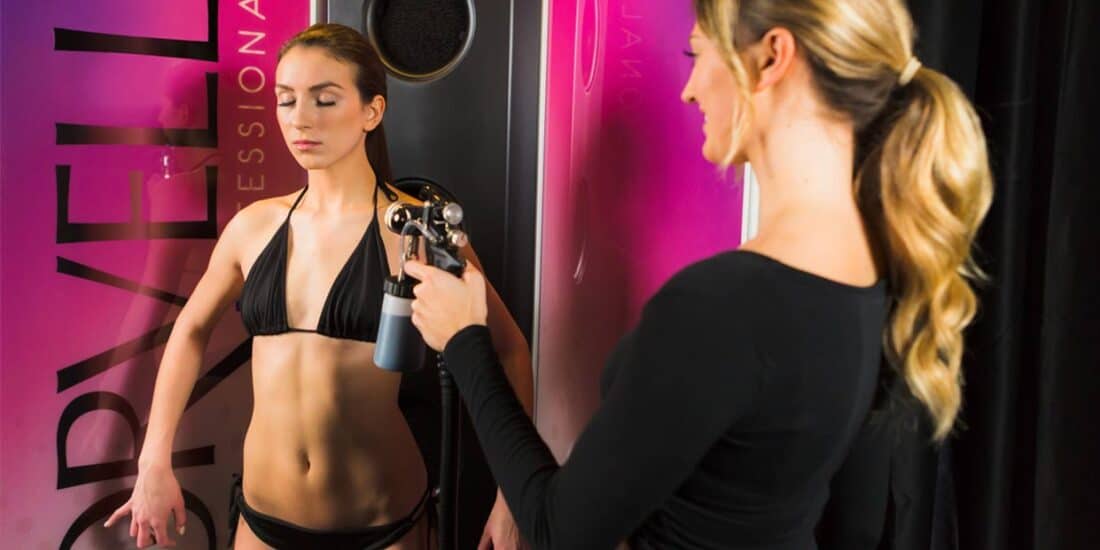 Immediately Before Airbrush Sunless Spray Tan Session
Optimize pH Levels.
Apply Norvell® Pre Sunless pH Balancing xLaTan™ spray to stabilize the skins' pH level as well as to provide a quick surge of moisture within the skin. Having the proper skin pH boosts DHA development, speeding result times and resulting in a deeper, darker tan. Having a stable skin pH combats the dreaded "orange effect".
Forget to exfoliate? Pressed for time?
We recommend using our eXmitt® Pre-tan Body Buff or Ultra Vivid Renew Exfoliating Prep Mitt to instantly clear away any dead skin cells, clean the skin of any barriers, and balance the pH level of the skin's surface. Infused with our proprietary pH balancing formula, the eXmitt® and Renew Mitt are designed to gently exfoliated and buff the skin while accelerating DHA color development without the need for water.
Aftercare of your Airbrush Sunless Spray Tan- first 24 hours
Once dry, apply Post Sunless HydroFirm™ Moisturizing Spray to add moisture, seal sunless results and boost the DHA reaction.
You should refrain from showering as long as possible (up to 24-hours). As with all DHA products, sunless color begins showing development approx. 4-hours after application and continues to darken for up to 24-hours.
If you must shower during the 4 to 24-hours following the application, WARM WATER RINSE ONLY. The use of soap can inhibit the full development of DHA color. Important: Cosmetic instant bronzers will wash away during the first shower.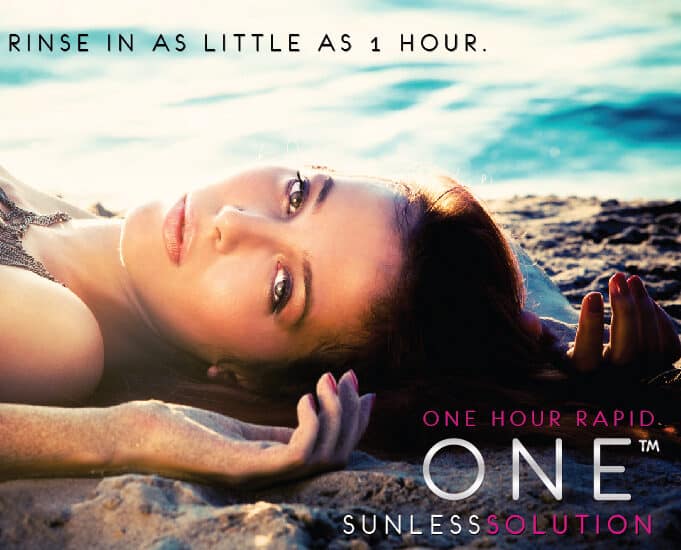 Venetian ONE Rapid Rinse Tans
Norvell's Venetian ONE rapid development sunless solution was introduced specifically for clients who just can't wait the usual 8-12 hours to shower. After your spray tan application, please follow the schedule below for your warm-water rinse- no soap, no hot water. It is important to note that your sunless tan will not have reached its full-color development after 1, 2, or 3 hours. Your tan will continue to darken over the next several hours. 
Rinse in 1- hour to achieve Light Bronze Color

Rinse in 2- hours to achieve Medium Bronze Color

Rinse in 3 or more hours for Darkest Bronze Color

NOTE: For those with very fair skin tones, it is not recommended to exceed the 3-hour wait time before your warm water rinse. Doing so may result in less-than-natural looking spray tan results.
AFTERCARE OF YOUR AIRBRUSH SUNLESS SPRAY TAN- Day 2 and beyond
When showering after 24-hours, use only a mild pH balancing shower gel such as pH Balancing Shower Cleanser™. Refrain from using scrubs or high pH soaps as these will strip away your sunless color.
After day 5, exfoliate with a soft body polish on a daily basis, to help your skin absorb even more moisturizer and keep it looking and feeling gorgeous. This also helps the tan fade naturally, rather than in patches.
Recommend Sunscreens to Protect Your Skin and Your Tan